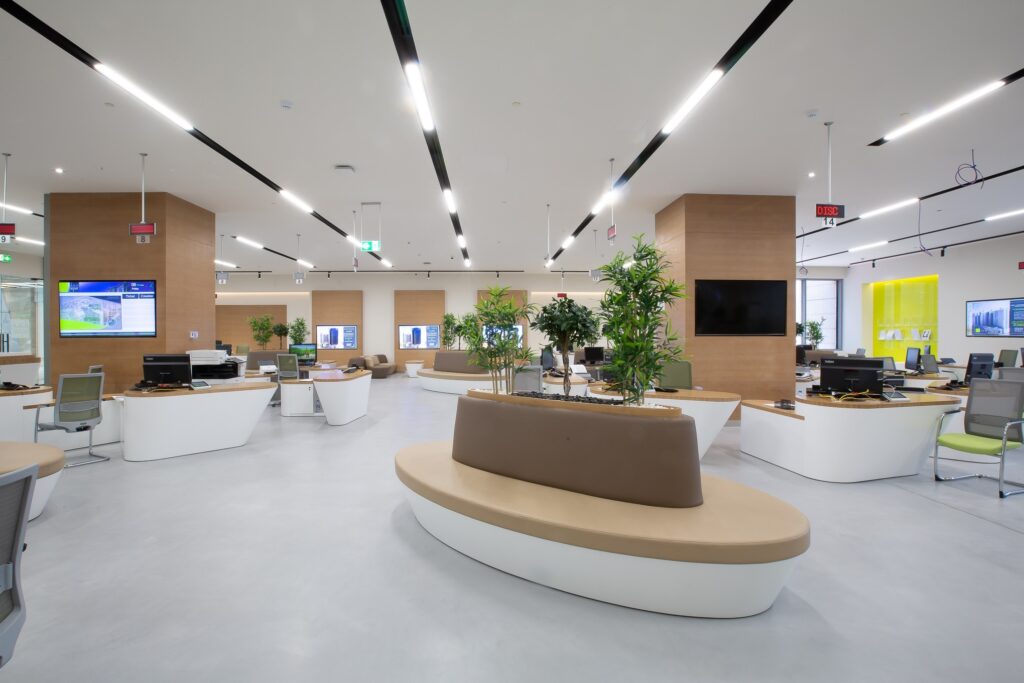 Looking For Leading Office Interior Fit Out Companies In Dubai, UAE? Welcome To Four Square Steel Constructions!
We offer full solutions for office fit out works in Dubai, Sharjah, Abu Dhabi and all other part of the emirates, and our role involves designing, planning and execution. Our company has a strong team that conducts an initial survey of your site and offers the best possible layouts after having an in-depth discussion with you and deal in an affordable price.
Our goal is long run and sustainability. We produce the best of skills, technology and expertise to craft the most creative aperture that could delight every need of the business. Office spaces are the main element in the business operations. From productivity to profitability all major concerns revolve around having a better place and space to manage on it. Also, office spaces can never be replaced or avoided in a business that expect consistency and smooth flow. We incorporate various creative ideas to effectively utilize every square foot of your office space and build a perfect fit out that will meet every requirement.
Advantages Of Interior Fit Out By One Of The Top Office Interior Fit Out Companies In Dubai
Increase productivity
Perfect office design will efficiently work for the organizational growth
Improves employee satisfaction
Improve the customer relationship
Brand image development
We are providing the best office fit out works in Dubai. We Create a positively vibrant office space to own lead in productivity as well as business. Office fit-outs play an important role in setting of the space. With improved ambiance and facilities, office fit out works will boost the revenue of the company. With a highly-skilled team of engineers and architects, we are responsible to deliver superior office fit-out solutions in Dubai.
Much more on office fit out works
Office fit-outs stand for the face and culture of the work nature of an office. With advanced and modern office fit out Dubai, several companies are working in this sector to utilize the growing opportunities in the market. Professional office fit-out solutions will help in the establishment of a unique brand via better workplace design and support the organization to showcase its culture and morale with utilities and facilities involved in the office space. Well Planned office space not only improves the productivity but also adds the reputation and credibility of the business.
Types-Office fit out works in Dubai
This fit out model that includes all sorts of electrical and mechanical installations, fire systems, curtains, lighting, air conditioning, different ceilings, flooring, and blinds etc.
This type of office fit-out includes the development of a given internal space to the best of the office structure. This includes the designing and formation of planned spaces and allocation of these for various types of rooms like office rooms, conference rooms, IT rooms, refreshment area, reception desk, furniture installments, etc.
Why to choose us?
We offer high-quality and standard design of office fit out works in Dubai, Sharjah, Abu Dhabi, and other emirates of UAE. So Contact us, our professionals are trained and experienced to perform flawless installations that meet your expectations in the best manner.
Gallery