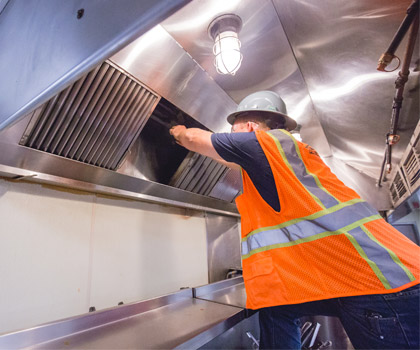 We are providing kitchen hood maintenance in Dubai, Sharjah, Abu Dhabi and all other part of the emirates. All the kitchen hood systems are now required to ensure that their kitchen exhaust system is free of grease and other flammable products that might cause fire. Insurance Companies, Health and Safety also Environmental bodies also now require evidence that good hygiene and safety regulations are being adhered to.
Why Kitchen Hood Maintenance?
We are providing advanced kitchen hood maintenance in Dubai, Sharjah, Abu Dhabi and all other part of the emirates. We provide your home kitchen duct cleaning services, restaurant kitchen duct cleaning services, hotel kitchen duct cleaning services or business with the most up to date Extraction System Cleaning technology which significantly reduces the downtime on the cleaning of your Duct Work by up to 70%, meaning minimal disruption to your business.
How This Come to Risk?
Hotels, restaurants, hospitals, employee cafeterias and other food-service locations have hoods and ductworks over the stove to exhaust smoke, steam, and fumes out of the building. These exhaust gases leave a residue on the inside of the ductwork. Depending on the type of cooking it would be grease residue of some sort, when grease becomes more by accumulation, a fire hazard exists. Don't wait to think about kitchen hood maintenance service only when a fire hazard happens. Fires originate in the cooking area, which can then explode into the exhaust system. Keeping a grease-free and fire-safe kitchen hood system can protect building from fire damage.
Benefit of Regular Maintenance
It removes potentially toxic pollutants and gasses from the air in the kitchen also removing Excess Heat
We get Better Kitchen Lighting
We can Improves the property value which provides the material long life span
Cooking and Living would be comfort
Often maintenance can Increase Fire Safety
Increases Extract Fan Efficiency, lowering electrical bills
Increases the Level of Hygiene
Can get Better Odour Control
Why to choose Kitchen Hood Maintenance in Dubai from us?
If you are looking for kitchen hood maintenance in Dubai, Abu Dhabi, Sharjah and other part of the emirates with minimum cost, we sure that your search ends with FOUR SQUARE STEEL CONSTRUCTION AND CONTRACTING LLC. We served many clients for kitchen hood maintenance in dubai and ensure the quality with affordable price in a professional way. Contact us at +971528078039 or email us on info@foursqrllc.com today for a no commitment free quotation. We also give you a space to visit or send you a quote via email. Our team will be available for 24/7 to cover all your needs.
Gallery